If there's a decade known for its flashy colors, oversized blazers, and wicked beats, it's the '80s. What better backdrop for a night of intrigue and suspense than the era of vibrant pop culture? Combine that with a murder mystery, and you're set to host the most tubular party ever!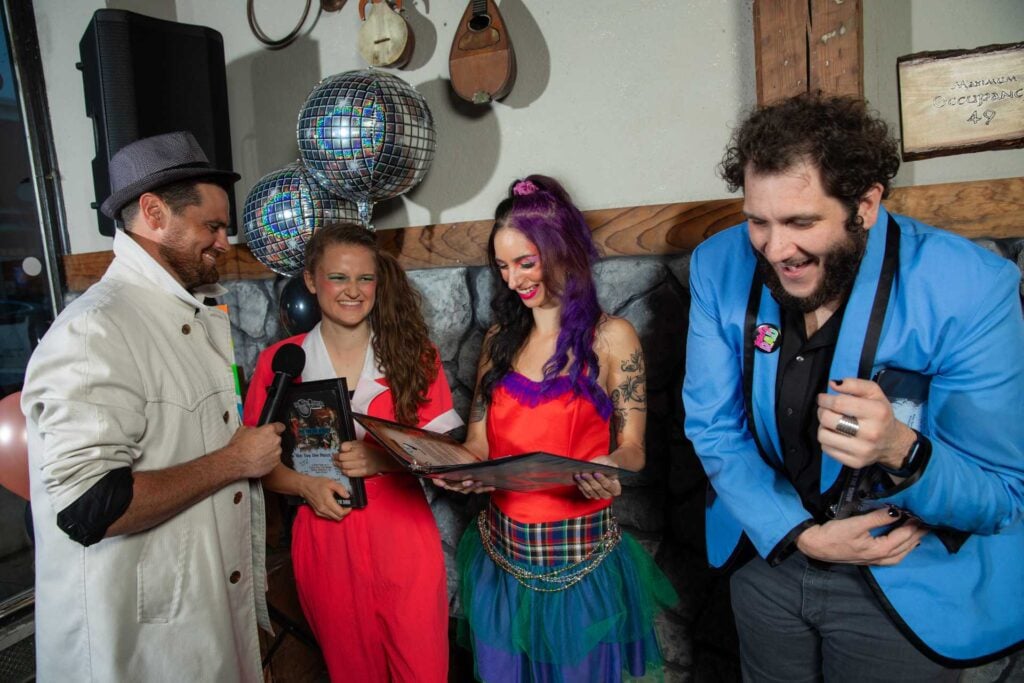 Pump Up the Jam: Setting the Scene
First things first – get that '80s ambiance just right. Think neon lights, disco balls, and funky music. Pop in a cassette (or, you know, a Spotify playlist) of Madonna, Michael Jackson, and Prince. And who could forget those iconic '80s movie posters? "The Breakfast Club", "Ghostbusters", and "Back to the Future" could adorn your walls for that authentic feel.
Dress to Impress: Fashion Forward in the '80s
You can't have an 80s murder mystery party without the iconic fashion. Encourage guests to don their best '80s attire. We're talking leg warmers, shoulder pads, and big hair! Whether they're channelling Madonna's lace gloves and bangles or going for a Don Johnson pastel suit, the costumes will add to the fun and excitement of the night.
Whodunit in the '80s: Crafting Your Story
The plot is where the 1980s murder mystery magic happens. Perhaps a famous rock star is found dead backstage after a gig, or a Wall Street big shot takes a tumble in the stock market and at a lavish penthouse party. The storyline possibilities are endless with the '80s backdrop. But if creating your plot seems challenging, fret not. The Murder Mystery Company has an intriguing '80s-inspired storyline ready to roll.
Grub and Groove: '80s Eats and Beats
Let's talk refreshments. How about some classic '80s snacks? Think cheese balls, shrimp cocktail, and those mini quiches that everyone secretly loved. Don't forget the drinks – maybe some blue lagoons or tequila sunrises. Set it all up on a neon-lit bar, and you've got a food station that's both nostalgic and nosh-worthy.
Wrap Up and Rock On: Concluding the Mystery
As the night draws to an end and the mystery unravels, reward your best detectives with iconic '80s goodies. Perhaps some vintage MTV tees or Rubik's cubes. It'll be a rad way to remember the evening.
Hosting a 1980s-themed murder mystery party is all about diving into nostalgia while offering a thrilling experience for your guests. As fun as it sounds, pulling off such an event can get a tad overwhelming with all the details. That's where the Murder Mystery Company swings into action. From crafting the perfect plot to ensuring the ambiance is spot on, they've got your back. So, slide into those leg warmers, crank up the tunes, and contact us today to plan a gnarly evening of mystery and mayhem!