Once you've decided to host a murder mystery party (hopefully with the help of our Murder Mystery Experts), the next big decision you have to make is what you will be serving your guests once they arrive. Thankfully, we have some great ideas that will help you put together a delicious plan that will leave everyone full and ready to sleuth the night away.
---
Classy bites.
A charcuterie board filled to the brim with cheeses, meats, nuts, breads, and jams is an easy way to look like a classy adult, even if you don't feel like one. Lay out a plain table cloth onto your dining room table or kitchen island and set down your best cutting boards (we recommend some bamboo or wooden ones to elevate the scene). Next, cut up wedges of one soft cheese (our fave: brie) and one hard cheese (any will do, we promise) and lay them throughout the table with various crackers in stacks, jams in small bowls, and nuts strewn about. Set out some plates, napkins, and silverware and let your guests go ham (or salami, prosciutto, etc.)
---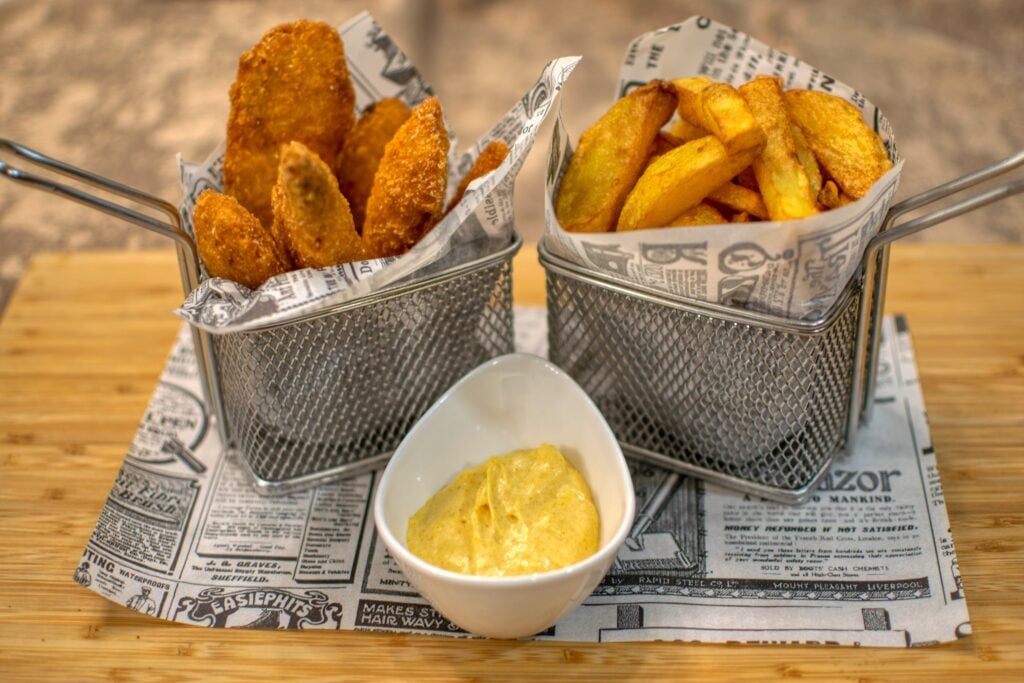 Finger foods.
Do you remember when you were a child attending your friend's birthday party? Channel that feeling and put out the kinds of foods that would have been served at that gathering. We're picturing chicken nuggets, pizza rolls, taquitos, bowls of M&Ms, and maybe a stray carrot stick you would have picked up because you were 'supposed to', but didn't end up eating. Pair this fun offering with some adult beverages and your guests are guaranteed to have a good ole time.
---
That good, good BBQ.
Hosting your party during the summer? Pull out your grill and your fire extinguisher and begin cooking up some burgers, hot dogs, brats, and corn-on-the-cob. This option allows the grillmaster to still be engaged in conversation with those who choose to gather around the flames. It also requires the least amount of prep as you can cook them up fresh in front of your guests without seeming rude. Put out some condiments and toppings and your guests can make their own personal main dishes without feeling like they're cooking for themselves—it's a win-win!
---
All the dips.
Do you know what the most underrated food item is? Dips. There are so many kinds of dips to choose from, why not choose them all and make it the focal point of your meal? From hummus to spinach and artichoke to guacamole, the options are endless! Place out bowls of as many dips as you can think of and anything that could be dipped in them and let your guests fill their plates high. The best part? Dips serve as the appetizer, the meal, and the post-dinner snack so your guests will never go hungry.
---
Just desserts.
Skip the dinner portion of your meal entirely and go to everyone's favorite part of the evening: desserts. Bake up pans of brownies, tins of cookies, and sheets of cake and let your guests fulfill their wildest dreams of eating dessert for dinner. Get a personalized cake at your local bakery and make that the centerpiece of the table, ending the night by cutting into it and sending each guest home with a slice to enjoy the next day since they'll probably already be stuffed to the brim with sweets! No one will fault you for the sugar coma they fall into later, we promise.
---
Since you're going through all the effort of putting together a great menu, why not leave the rest of the evening to our Murder Mystery experts?
Our party planners take all the guesswork out of putting together a get-together that will leave your guests laughing to death. Call us today at (888) 643-2583 to create the party of your dreams today.